Iglekärr's gammelskog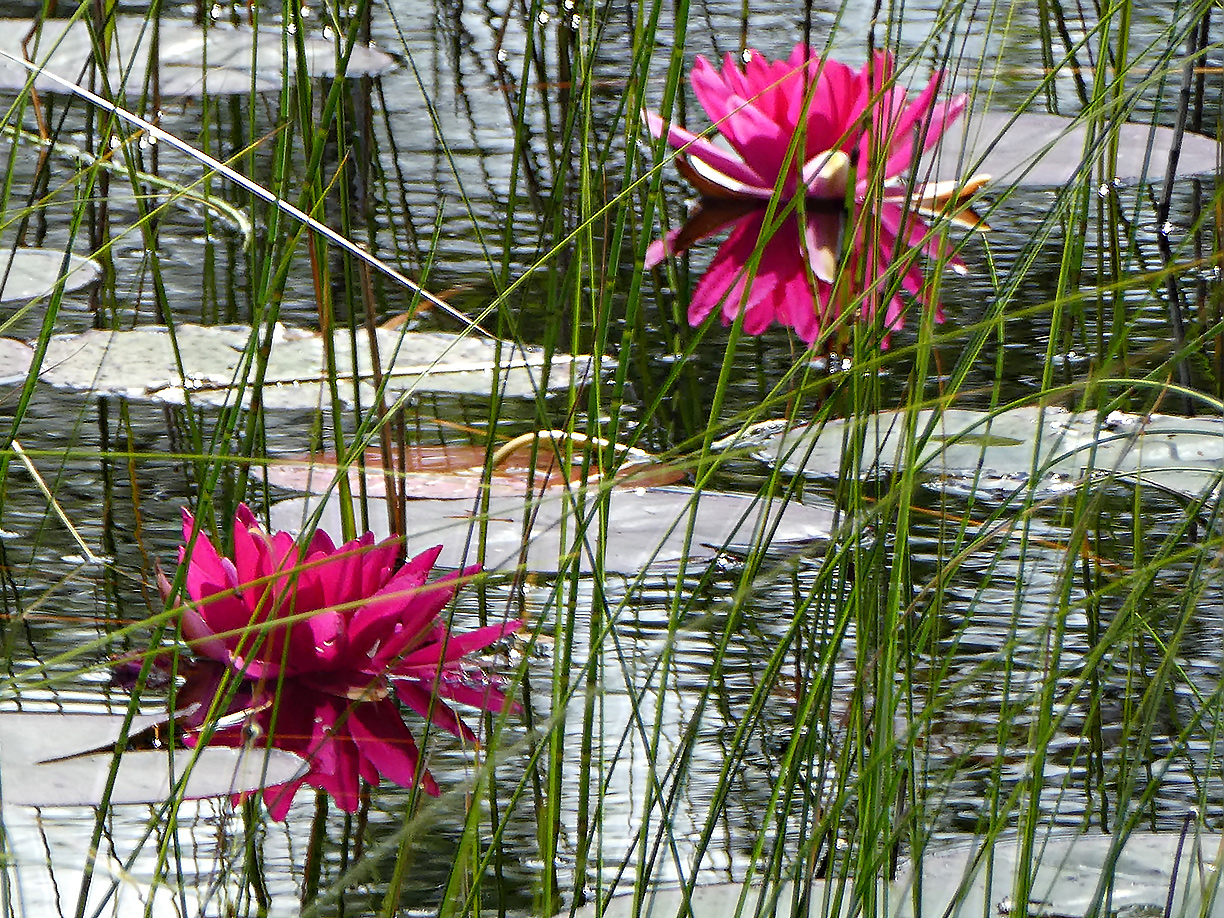 Iglekärr's old-growth forest, which takes up about 70 hectares, is situated in Ale municipality, close to Skepplanda, about 30 km north of Göteborg (Gothenburg). The forest is a luscious mixture of mainly pine, fir, and oak, but also home to many other species of tree. The Iglekärr forest runs on almost seamlessly, and bears no signs of deforestation.
A total of 44 species that indicate high natural conservation values have been found, whereof 15 are red listed, and 28 have been added to the Swedish Forest Agency's register of indicator species, which are "used to locate and determine forests with high natural conservation values." (Here you can download a full registry of the indicator species.)
Along Iglekärr's old-growth forest's eastern boarder runs Ekliden's Nature reserve (about 80 hectares). The preservation of Iglekärr would mean an almost double expansion of the protected wildlife area, which would increase the biological value significantly. Species in one area would be able to cross the boarders and find new habitats. A preserved area that combines Ekliden and Iglekärr would offer a variety of terrain, and protection, for a multitude of plant-life and animals.
Plants and fungi indicating high natural values in the forest
On the oaks in Iglekärr's old-growth forest you can find rambling tail moss (Antitrichia curtipendula), which is one of the most reliable indicator species among moss. It generally indicates areas with high natural conservation values and forests with long continuity.
The forest is also home to many other rare and red listed species such as bark barnacles (Thelotrema lepadinum). This lichen prefers open, airy forests, and has likely benefitted from the forest historically being used for grazing, and occasional, gradual lumbering.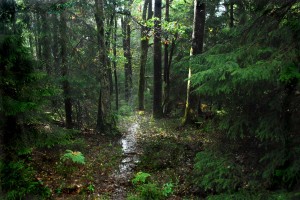 Greater whipwort (Bazzania trilobata), and Taylor's flapwort (Mylia taylorii) indicate terrain with a high and consistent air humidity, and high natural conservation values.
Spike lichen (Calicium parvum) suggests pine forest that generally has high natural values, and in the heart of the forest giant knight (Tricholoma colossus), scaly tooth fungus (Sarcodon squamosus), bleeding tooth fungus (Hydnellum peckii), and marsh gentian (Gentiana pneumonanthe) have been found.
Dicranum moss (Dicranum flagellare), is a common indicator in forests of high natural values. It suggests a biotope with a rich and continuous supply of rotting wood in various stages of decomposition.
The northern and southern facing slopes are rife with liverwort (Hepatica nobilis), big shaggy-moss (Rhytidiadelphus triquetrus) and other species that show the occurrence of greenschist in the area. You'll also find maidenhair spleenwort (Asplenium trichomanes) and forked spleenwort (Asplenium septentrionale) here.
There are large quantities of Tamarisk scalewort (Frullania tamarisci), pincushion moss (Leucobryum glaucum), waved silk-moss (Plagiothecium undulatum), and greater whipwort (Bazzania trilobata), which, though not uncommon in themselves, are good indicators of untouched nature and high air humidity, two crucial factors for a large number of species.
The inonotus canker (Inonotus rheades), suggests natural forest terrain with aspen. Iglekärr's old-growth forest is likely the most aspen-rich area in Risveden, and home to aspen bracket (Phellinus tremulae), and Phellinus popilucola.
Older oaks can mainly be found in the southern part. Pachykytospora tuberculosa is a good indicator species for old oak and high nature value forests. Here you'll also find cinnamon porecrust (Phellinus ferreus).
The black tooth fungus (Phellodon niger) generally suggests old coniferous forest with lengthy tree continuity.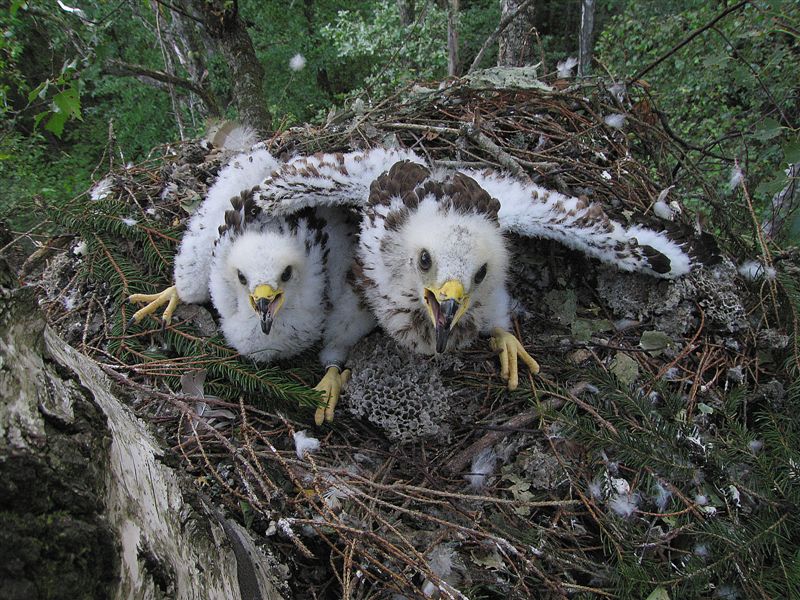 Animals in the forest
There are plenty of animal species of differing rarity in the forest, but three that we think are especially worth mentioning.
The red listed honey buzzard (Pernis apivorus) has been sighted in Iglekärr's old-growth forest and Ekliden's Nature reserve. Lesser spotted woodpecker (Dryobates minor) nest in the southern parts of the forest, while the nightjar (Caprimulgus europaeus) has marked territories on the Swedish slab-forest in the central parts. Naturskyddsföreningen in Ale has useful information about Iglekärr's old-growth forest on its website.
Directions
Igelkärr's old-growth forest is situated 2.5 km east of Skepplanda in Ale municipality. You can get there by bus or car:
Going from Gothenburg by the public transport system you take the commuter train to Älvängen. From Älvängen you take bus 434 toward Skepplanda and get off at Albotorget, which is also the end-station. From Albotorget you have to continue on foot. The roads leading up to the forest are private and should not be used by car-drivers visiting Iglekärr's old-growth forest. If you travel by car there is a parking at the north end of the reserve. This is also where a poster and map will be mounted shortly. If you wish to visit Solliden or Ekliden you may park along the gravel road in the south according to the map below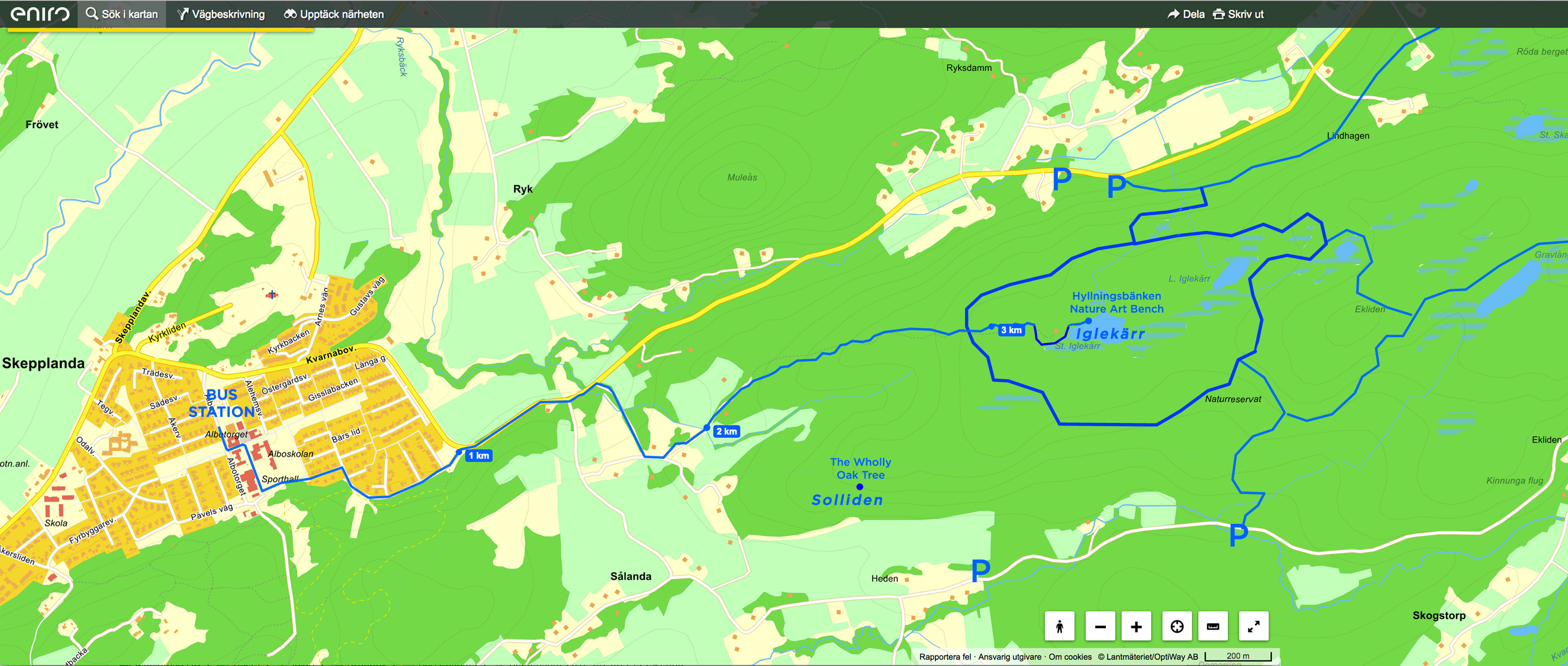 Click on image for a larger map
From Albotorget you can cut through Skepplanda (the blue line on the map) and once you get onto the country-road you continue straight along it. After a few hundred metres you will see a road on your right toward Sålanda, pass it and continue along the country-road another 100 metres, and then turn right up a small dirt-road. Keep left past the recently built house and continue till you get to the "cul de sac." Continue onto the foot-path straight ahead, and when you've passed the power-lines, you're in Iglekärr's old-growth forest.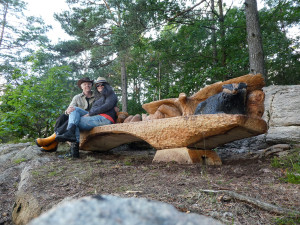 Once you arrive at the "bathing place" at Stora Iglekärr, you can view the amazing wildlife bench that was installed during the inauguration of Iglekärr's old forest on August 6, 2016. It was sculpted in just five days from an oak log from Gothenburg's botanical gardens by the chainsaw artist Tommy Craggs.
In the Nature Reserve there is a newly marked path that crosses the path coming in from the power line in the west. The path joins Iglekärr with the Ekliden Nature Reserve and starts and ends at the parking, which is located at Iglekärr's northern border to Kvarnabovägen (the road that goes east from Skepplanda). The Parking is at the coordinates 57.989889, 12.256976 and here's a Google maps link:  https://goo.gl/maps/svHBXaqdFe42