solliden old-growth forest
THE SWEDISH BOARD OF AGRICULTURE HAS GRANTED US THE ACQUISITION PERMIT! 🙂
Now you can participate in preserving Solliden for future generations – Click here!
Feel like an oak? "Purchase" your own Guardian tree in Solliden today!
Naturarvet now has a deed for the land west of Iglekärr's old-growth forest*, and for a strip of deciduous trees toward the forest edge in the south. 31.4 acres of old-growth forest from two different properties contribute to the preservation of an even bigger, continuous area of the beautiful Risveden old-growth forest. (* In 2016 we finished the collection for Iglekärr's old-growth forest, and celebrated the acquisition of this treasure by unveiling a tributary bench in August. In September, Iglekärr was officially deemed a nature reserve by the County Council.)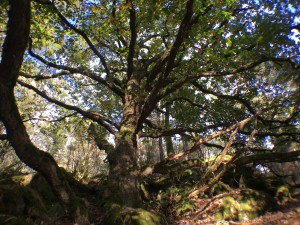 Solliden, as we call the recent addition, is a sunny, south-facing slope, with plenty of deciduous trees, especially in the far south of the area, where the valuable broadleaved old-growth forest creates an especially preservation-worthy environment below the craggy forest edge. There are many large oaks, and red listed species, such as several large ash trees and wych elm trees. A forest survey carried out in late November gave us inventory data of protected species which have now been listed. You can see the list, and the species added to it over time, below. The area of valuable broadleaf trees which can now be preserved will be 5 times bigger than the area already protected by Iglekärr's nature reserve.
The deed for the land was drawn up in December 2016. We are now starting the collection to raise the 1 million SEK required on top of the down-payment, which is just shy of 300,000 SEK. A cadastre and land consolidation are still to be carried out. It would be wonderful to go through with the purchase no later than one month after the cadastre has been finished, and Naturarvet has been given access to the land, which will then become a part of Sålanda 2:22, i.e. Iglekärr's old-growth forest.
This is a collection-site where you can donate specifically to Iglekärr Solliden. All other donations that we receive and which have been marked as "Iglekärr Solliden" will also be added to this collection.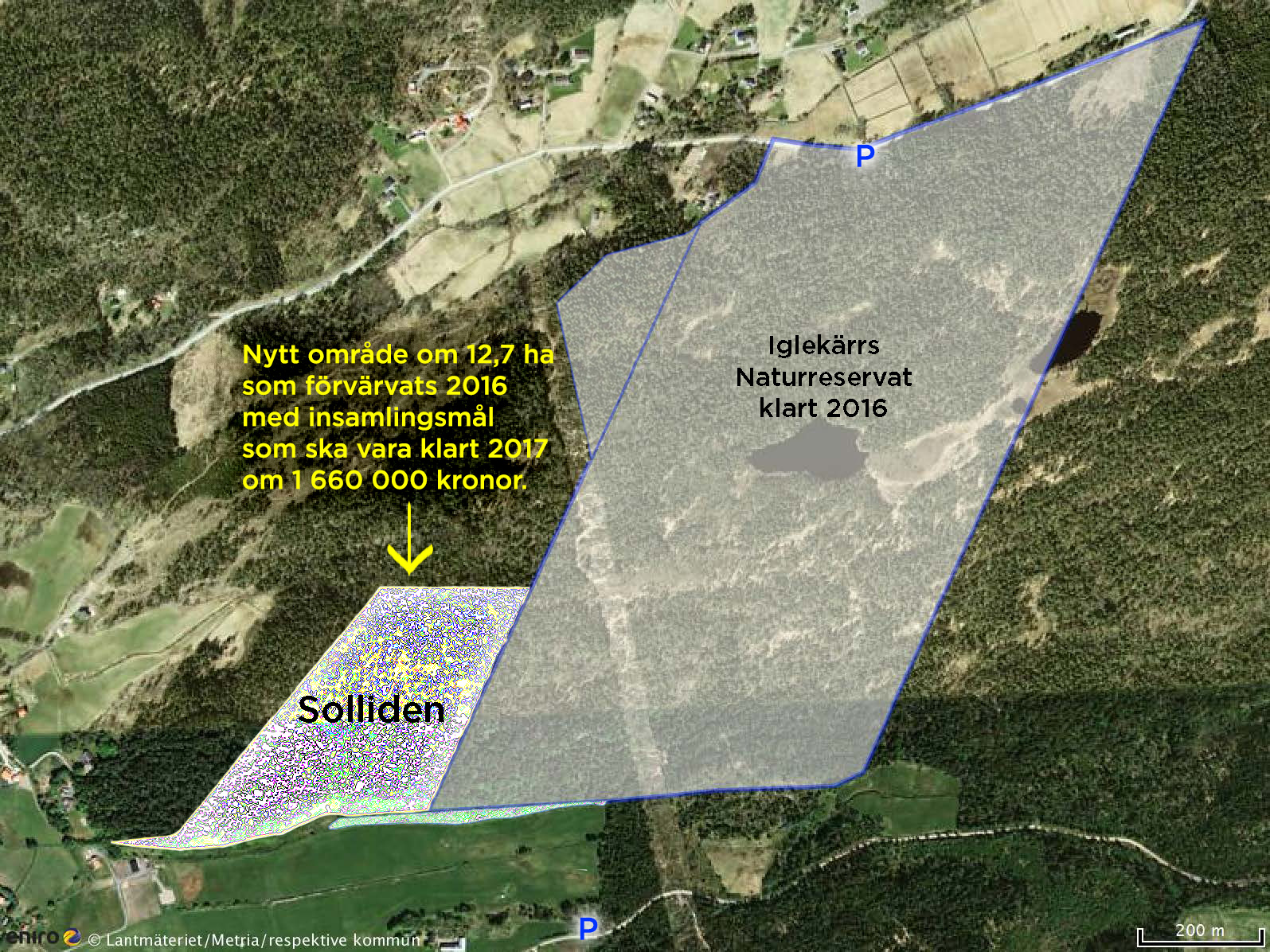 Solliden – New forest to be preserved in 2017
List of species under environmental protection in Solliden. Amongst others: Hultengren and Stansvik et al. (27/11 2016), Danielson (several survey occasions), Jarl (several survey occasions).
Indicator Species
Liverleaf Hepatica nobilis
Dot lichen Arthonia spadicea
Dotted lichen Bacidia rubella
Pendulous Wing-moss Antitrichia curtipendula
Silky Wall Feather-moss Homalothecium sericeum
Wall Scalewort Porella platyphylla
Lime Homalia Moss Homalia trichomanoides
Flat Neckera Neckera complanata
Snakewort Conocephalum salebrosum
Red Listed Species
Ekskinn "Oak Skinn" no known English vernacular Aleurodiscus disciformis
Bird's-foot Wing-moss Nogopterium gracile
Lesser Spotted Woodpecker Dendrocopos minor
European Green Woodpecker Picus viridis
Common Swift Apus apus
Goldcrest Regulus regulus
Ash Fraxinus excelsior
Wych Elm Ulmus glabra
Hemisphaeric Liverwort, Reboulia hemisphaerica, was also found. This is a rare species which deserves special mention. Bird's-foot Wing-moss was found at several locations in the area.